Kids Science Activities
Granite Cookies
These kids science activities are fun and good to eat. You will be making granite cookies for this activity. Granite, diorite and gabbro are three main types of rocks that cool beneath the Earth's surface.
When magma (molten rock) cools beneath the Earth's surface crystals grow. The interlocking crystals do not form layers but are scattered through out the rock in random order similar to the cookies you will bake.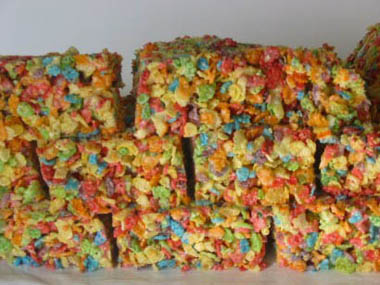 Materials
Cube of butter or margarine
Package of miniature marshmallows (10.5 oz / 297 g)
Box of fruit flavored cereal (10 oz / 368 g)
Microwave safe bowl
Vegetable spray
Wooden spoon
Tin foil
9 x 13 inch pan
Directions
Cut the cube of butter in half.
Melt the margarine in a large microwave safe bowl.
Pour the entire package of marshmallows into the bowl.
Stir the contents until the margarine coats the marshmallows.
Microwave the marshmallows for 45 seconds. Stir until smooth.
Repeat the above step one more time.
Stir in the entire box of fruit flavored cereal.
Mix the entire ingredients thorough in the bowl.
Place greased tin foil into the 9 x 13 inch pan.
Pour the marshmallow cereal mixture into the pan.
Press the cereal down firmly to form a flat compact surface.
Refrigerate for two hour then take out and cut into squares.
More Links to Science Activities
Shield Volcano - Volcano Activities Create a shield volcano out of clay like the Hawaiian Islands in this hands on science activity. 
Earth's Elements - Physical Science Activities Create four common molecules out of clay in this easy and fun activity. 
Dinosaur Footprints - Fossil Activities Create sedimentary dinosaur footprints using miniature dinosaurs in this Earth science activity. 
Loop Airplanes - Flight Activities Get some friends together and build loop airplanes made from straws and circles of construction paper.
---
Tree Rings - Life Science Activity  You can be a science detective and discover what the weather was like by looking at tree rings. Learn more in this fun activity. 
Granite Cookies Kids Science Activities Create granite cookies that resemble rocks that form the base of all the continents in this good to eat and fun activity.
Science Activities Fun and easy activities that demonstrating science concepts can be found on this page
Home Page  The Science Site contains information on our planet, volcanoes, science projects, earthquakes and much more.
---
Kids Fun sCIENCE bOOKSTORE
Check out Myrna Martin's award winning textbooks, e-books, videos and rock sets.  The Kids Fun Science Bookstore covers a wide range of earth science topics.  Click here to browse. 

---
---
Sign up to our monthly newsletter and receive our FREE eBook containing 3 fun activities that don't appear in any of our other books!
 
The Kids Fun Science monthly newsletter will include the following: current events, weird and fantastic facts, a question of the month, science trivia and the latest new content from our website.
 
We respect your privacy and you can be assured that we will never share your email address or use it for any other purpose than to send you our newsletter.