Elementary Science Activities

Fun elementary science activities creating a mobile
This elementary science activities can be done any time of the year. You might go on a nature walk and collect some cones, limbs, and other natural objects to use for your mobile. The illustration shows the materials hung from a branch picked on a nature hike.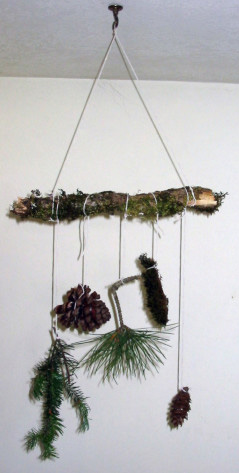 Nature Mobile
Materials
Branch of a tree
Variety of cones
Small branches with leaves on them
Moss
Leaves with a stem
String
Directions
Go on a nature walk to gather natural materials from your area for this project.
Sort the materials into different groups.
Plan your mobile so you have a variety or shapes and sizes of material that you have gathered.
Tie different lengths of sting to your branch of a tree.
Tie a longer string to the two ends of the branch to hang your mobile from a ceiling.
Tie the different natural materials you have decide on for your mobile onto the tree branch.
Hold up your mobile to see how it looks.
You might have to adjust the objects you hang after holding it up.
When completed hang it from a hook in the ceiling.
More Links to Science Activities
Geology Activities, Marshmallow Crystals Learn the difference between glassy, microscopic crystals and large crystals in this fun and good to eat science project.
Water Cycle Activity, Water Tower This activity demonstrates how water towers work using recycled materials.
Fun Activities, Cookie Dig See how much money you can make digging for "ore" in this fun activity.
Pizza of the Earth - Earth Science Activities Learn the major areas inside the Earth while having a pizza for dinner.
---
Granite Cookies - Kids Science Activities Create granite cookies that resemble rocks that form the basement rocks of all the continents.
Nature Mobile - Elementary Science Activities Go for a nature walk to gather materials to create your very own special and unique nature mobile.
Science Activities Fun and easy activities that demonstrating science concepts can be found on this page
Home Page  The Science Site contains information on our planet, volcanoes, science projects, earthquakes and much more
---
Kids Fun sCIENCE bOOKSTORE
Check out Myrna Martin's award winning textbooks, e-books, videos and rock sets.  The Kids Fun Science Bookstore covers a wide range of earth science topics.  Click here to browse. 

---
---
Sign up to our monthly newsletter and receive our FREE eBook containing 3 fun activities that don't appear in any of our other books!
 
The Kids Fun Science monthly newsletter will include the following: current events, weird and fantastic facts, a question of the month, science trivia and the latest new content from our website.
 
We respect your privacy and you can be assured that we will never share your email address or use it for any other purpose than to send you our newsletter.