1964 Alaska Earthquake
The 1964 Alaska earthquake occurred on Good Friday, March 27, 2964 in the late afternoon. It was the largest earthquake ever recorded in North America. The earthquake epicenter was at the mouth of College Fiord in Prince William Sound. The megathrust earthquake occurred in an area where the Pacific Plate is subducting beneath the North American Plate.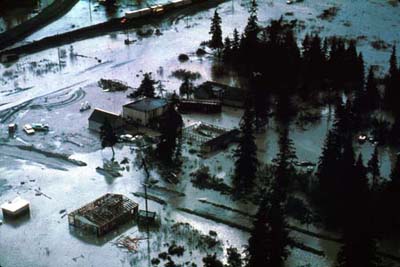 Portage, Alaska after the 1964 earthquake. USGS
What caused the earthquake
The northwestward movement of the Pacific Plate relative to the North American Plate caused the earthquake. The crust of southern Alaska is compressed and warped due to plate movement after the plates locked. Areas along the coast crumpled with some parts uplifted and other parts forming depressions.
Land affected by the earthquake
Subsidence and uplift affected approximately 250,000 square kilometers of land from Prince William sound to Kodiak Island. Patterns of uplift and subsidence that had been occurring prior to the earthquake reversed. Parts of Montague Island were uplifted between 4 and 9 meters.
The land around the town of Portage subsided by as much as 3 to 9 meters. The picture above of the town of Portage after tsunamis swept over the land.
Tsunami waves generated during the earthquake
Ninety percent of the people that died in the Alaskan earthquake were killed by tsunamis. There were two types of waves generated during the earthquake. The main tsunamis generated by the large-scale movement of the ocean floor.
Tsunami waves swept across the Pacific Ocean. Landslides crashed into bays and fiords minutes after the rupture began generating local tsunamis. The largest wave height was at Shoup Bay which reached 67 meters.
More Earthquake Links

1964 Alaska Earthquake  The 1964 Alaska quake was the largest earthquake ever recorded in North America. 
Richter Magnitude Scale  The Richter magnitude scale was developed in 1935 to study California earthquakes. 
Moment Magnitude Scale  The moment magnitude scale measures the total energy released by great earthquakes. 
Normal Fault  Find out how and why normal faults form.
---
Earthquake Waves  Find out which earthquake waves are produced only by large earthquakes. 
Earthquake Facts  Did you know that an earthquake can occur any place on Earth?
Home Page  The Science Site contains information on our planet, volcanoes, science projects, earthquakes and much more.
---
---
Kids Fun sCIENCE bOOKSTORE
Check out Myrna Martin's award winning textbooks, e-books, videos and rock sets.  The Kids Fun Science Bookstore covers a wide range of earth science topics.  Click here to browse. 

---
---
Sign up to our monthly newsletter and receive our FREE eBook containing 3 fun activities that don't appear in any of our other books!
 
The Kids Fun Science monthly newsletter will include the following: current events, weird and fantastic facts, a question of the month, science trivia and the latest new content from our website.
 
We respect your privacy and you can be assured that we will never share your email address or use it for any other purpose than to send you our newsletter.